espresso
ɛˈsprɛsəʊ
noun
a type of strong black coffee made by forcing steam through ground coffee beans.
Sounds simple enough, right? Well, how often have you had a burnt and bitter coffee, or one that has a mouthfeel of licking sandpaper? This collection of Coffee Training videos produced by William Angliss Institute may be the secret to you producing silky, smooth and beautifully balanced flavoursome coffee in your venue, every day!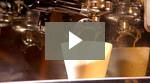 OK there are lots of styles to learn about, so let's explore the very basis of the business right here – the espresso! Enjoy the training video and then have a go at your online knowledge test.